Armagh Diocesan Synod
Thursday 22 October 2015



Archbishop speaks of "confidence, courage, creativity, compassion and compass" at the Armagh Diocesan Synod.


The sun shone brightly on the "Hill of Armagh" as members of the
Diocesan Synod made their way into St Patrick's Cathedral on Thursday 22nd October, to celebrate Holy Communion prior to commencing
the business of the day in the Alexander Synod Hall.

Presidential Address
Archbishop Richard in his Presidential address spoke on the themes of confidence, courage, creativity and compassion in the Christian journey of faith and in our witness to the world. A world that seems to have lost its compass, its bearings. The Archbishop suggested  there are different compasses  to which we are called. There is a moral compass, which gives us an understanding of right and wrong. There is the spiritual compass, which enables us to follow the call of God to us. There is the compass of the mind, which gives us discernment and understanding of complexity and of subtlety. All are gifts of God, if we will receive them humbly. It is God who urges us to love Him with our hearts and with our souls and with our minds. None are to be ignored, and yet all too often they are swept aside in a public culture that seemingly wishes to exist only in a world of sound-bites, of populist emotion, and of cowardly factional and sectional self-interest. We, as disciples of Jesus Christ, must be ready to show that there is indeed a better way if we are to offer anything to our communities and this world.

Refugee Crisis
Archbishop Richard urged the members of Synod to respond with compassion to the current refugee crisis as well as to those living in deprived circumstances across the island of Ireland, quoting, "one of the most disturbing chapters in the Bible" - Matthew 25, where we are reminded that if we do not have compassion on those without homes, without food, without the means of survival, it is Christ himself on whom we turn our back.

Guest Speakers
please visit website: Help refugees now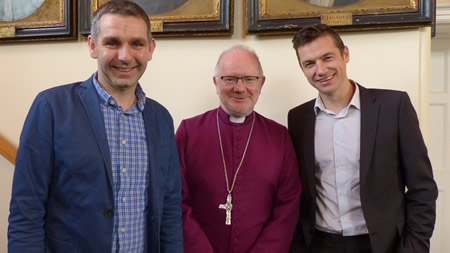 The Syrian Refugee crisis took centre stage after lunch,
when Synod were privileged to hear from Tim Magowan
(Tear Fund, NI Director) and Jasper Rutherford (Church Army). Both Tim and Jasper spoke passionately about the relief work being undertaken and the deep distress and anguish endured
by so many people. Jasper visited the Beqaa Valley area of Syria and shared a video presentation which included a  moving interview with a mother and father who had witnessed their son's murder at the hands of insurgents.

The Church of Ireland Bishops' Appeal has contributed through Tear Fund to the Refugee Relief effort. The Diocesan Appeal Representative, Revd Elizabeth Stevenson encouraged parishes to think about ongoing giving to the Bishops' Appeal.


Annual Hospice Sunday - 1st November 2015
Closer to home, Synod were reminded that Sunday 1st November 2015 is the annual "Hospice Sunday" with the Armagh Diocese. The brainchild of Revd Matthew Hagan, each parish is encouraged to have a special collection to support our different local Hospices. For more details click here

Flesh & Blood Campaign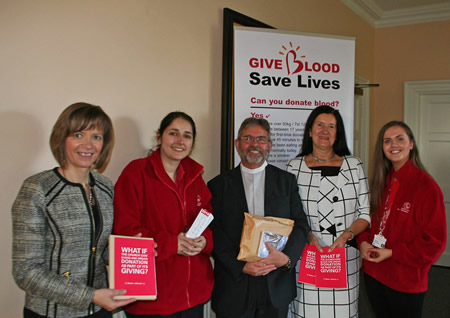 The Archbishop spoke too of the "Flesh and Blood Campaign" which was launched nationally in March 2015 and encourages Christian disciples to consider whether, as part of their understanding of stewardship of all that they had been given by God, they would volunteer to donate blood and also join an organ donor register. Over lunchtime there was the opportunity to speak with representatives of the "Flesh and Blood Campaign" who could give guidance and encouragement.



Gratitude

Archbishop Richard took time to express his gratitude and thanks. First  and most profoundly, sincere gratitude to God who has continued to be with us as a diocese over this past year – loving us, directing us, leading us and, we hope, using each one of us as we seek to serve Him.  The Archbishop then thanked the many people who make the ministry that he tries to exercise in the Diocese of Armagh, more fulfilling and hope-filled than it could ever otherwise be.  The clergy, the laity who fulfil ministries of different kinds – diocesan and parish readers, musicians, pastoral visitors, Sunday School teachers, select vestry members and officers, and the very many others who quietly and diligently work for the good of the Church of God .
For full photo Gallery click here
For full text of Archbishop's presidential address click here