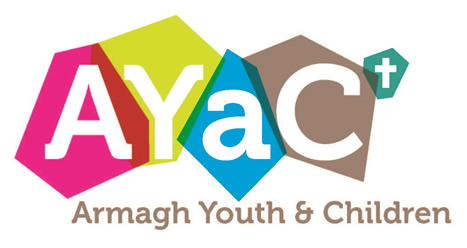 Introducing David Brown - our Youth & Children's Development Officer
contact David at doycarmagh@gmail.com or 07557 655860
David is married to Wendy with two young adult children (Tom, 20) and Poppy (17), and has been in Christian Youth ministry since 1992 after graduating from the University of Ulster in Youth and Community work.
David's career/ministry has included work with the Corrymeela Community, as the Archbishop of Canterbury's
Youth Advisor, and from 2002 to 2013 as the Director of the Church of Ireland Youth Department.
Latterly David has worked as the Lay Training Co-ordinator for the Church of Ireland Theological Institute.
He brings extensive youth and children's experience to this role with Armagh Diocese but is keen to point out
that the "L" plates are back on with much to learn!
Alongside family and work commitments, David is a keen cyclist, loves skiing and an avid Ulster and
Ireland Rugby supporter. By his own admission he is a "coffee snob" when it comes to a decent Cappuccino!
Armagh Youth at Summer Madness July 18:
Update video from from David - May 18:
An introductory video from David - Oct 17:
Up & Coming Events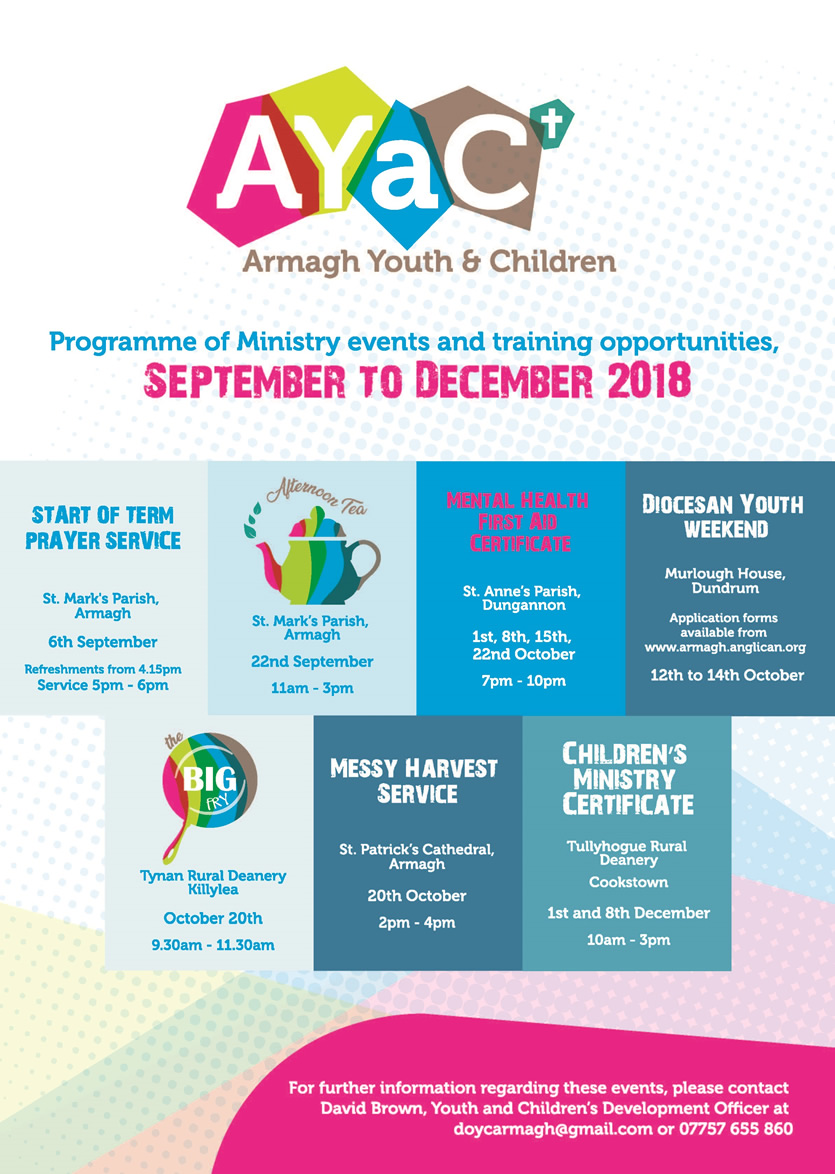 Download this poster by clicking here
"Mental Health First Aid Certificate".
Armagh Youth and Children are delighted to announce that in partnership with the Southern Health Trust, the recognized Mental Health First Aid certificate will be delivered for youth and children's leaders, Clergy, Youth workers and members of Parish based pastoral care teams. There are only 20 places available and it is required that participants commit to the four training evenings being held at Drumglass Parish, Dungannon. There is a small cost of £5.00 per head for the training.
Dates. Monday 1st October, 8th of October, 15th October, 22nd of October. 7pm to 9.30pm.
To book email me at doycarmagh@gmail.com
For a poster click here
Wrap up of recent Youth & Children's events across the Diocese
(please click on the title links)
Slides from David Brown's workshops:
1. Handling Conflict.
2. Building and motivating teams.
Afternoon Tea - Resources Fair - Sept 18
Start of Term Service - Sept 18
Louth Resource & Information morning - June 18
Big Breakfast Castlecaulfield - Apr 18
Big Breakfast Mullavilly - Feb 18
Resources & useful website links
"I Believe" - Confirmation Resource
"Roots" worship & learning resources