Sunday 14th October 2018 @ 4.15 pm
St Patrick's Cathedral, Armagh
Organ Recital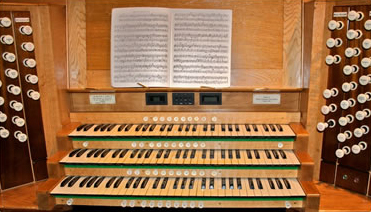 New Organ Recital Series

On Sunday 14 October 2018, Dr Stephen Timpany will give the first in the new organ recital series in St Patrick's Church of Ireland Cathedral, Armagh. Stephen is the Director of Music and Master
of the Choristers at the Cathedral. His forty-five minute recital will start at 4.15pm. Admission is free, with donations to the Choir Fund greatly appreciated.

Stephen's programme will include Concerto in C BWV 594 by Johann Sebastian Bach, Pastorale by César Franck and Variations on 'The Old Hundredth' by Denis Bédard. In speaking about his choice of music, Stephen said, "The recital will consist entirely of pieces by European composers, J S Bach and Franck representing Germany and France, with a slight imposter Bédard, who is French Canadian. Incidentally Bach's Concerto in C is actually his arrangement of a piece by Vivaldi, so Italy is represented as well! While J S Bach and Franck are mainstays of the organ repertoire, Bédard is a contemporary composer who combines the best of the German and French traditions with his own unique style."

As Director of Music at Armagh Cathedral, Stephen has invited organists to take part in the new recital series which will run until May 2019.

The Dean of Armagh, the Very Revd Gregory Dunstan, said, "Stephen's choice of music for the opening recital of the 2018-19 season fits very well into this autumn of the European Year of Cultural Heritage. His inclusion of work by Bédard also recalls a concert by the Allegra Singers of Vancouver in July, who brought a distinctly Canadian voice to music in the European tradition. We look forward to the craftsmanship and sensitivity that is a hallmark of all Stephen's playing in the Cathedral."

The next recital will be given by Revd Dr Peter Thompson on Sunday 25 November 2018.
For further information, please contact: St Patrick's Church of Ireland Cathedral: Tel. 028 37523142