Sunday 25th March 2018 @ 4.15 pm
St Patrick's Cathedral, Armagh
Organ Recital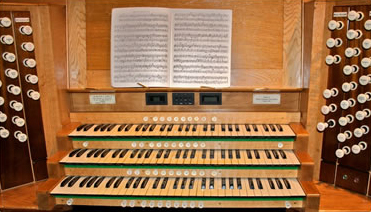 Dr David Whittle will give the next organ recital on Sunday 25 March 2018 at 4.15pm in St Patrick's Church of Ireland Cathedral.

David has been Director of Music at Leicester Grammar School since 1986. His musical education started as a chorister at Peterborough Cathedral, and he subsequently read Music at Nottingham University. Some years later, an interest in the composer Bruce Montgomery, who also wrote detective fiction under the pseudonym of Edmund Crispin, led to David's gaining a PhD and to the publication of a biography of Montgomery. David has also contributed to publications such as the Oxford Companion to Crime and Mystery Writing, the Oxford Dictionary of National Biography and Irish Musical Studies.
In 2013, after many years of telling his pupils to practise more, David thought that he had better do the same himself and started a five-year plan to play all the organ music of Bach in a series of recitals at the school. He is on course to finish this in 2018.
David knew Theo Saunders, the former Cathedral Organist, when Theo worked in Leicester. Passing through Armagh eighteen months ago, David visited the Cathedral and, seeing that there was then a series of recitals in Theo's memory, decided to offer himself as a future recitalist to pay his own respects.

Knowing that Theo was keen on Bach, and as he is currently playing all of that composer's organ music, David's Armagh recital will include pieces such as Bach's Fugue in E flat, often known as the St Anne Fugue. He will also play music by the French composer Dupré from his Fifteen Pieces founded on Antiphons, and some lighter music such as Ronald Watson's jolly Suite for Mrs Thing.
The Very Revd Gregory Dunstan, Dean of Armagh, said, "It is immensely kind of David to come from Leicester to pay this personal tribute to Theo. Theo himself had a deep commitment to education, both in the schools in which he worked and in teaching the organ. We look forward to hearing David – playing Bach – on the Cathedral organ that Theo knew so well."

Admission to the recital is free with a retiring collection most welcome towards the further endowment of the Cathedral choir through the Archbishop's Choir Fund.
For further information, please contact: St Patrick's Church of Ireland Cathedral: Tel. 028 37523142