Camlough & Mullaglass bid farewell to Rev William McCracken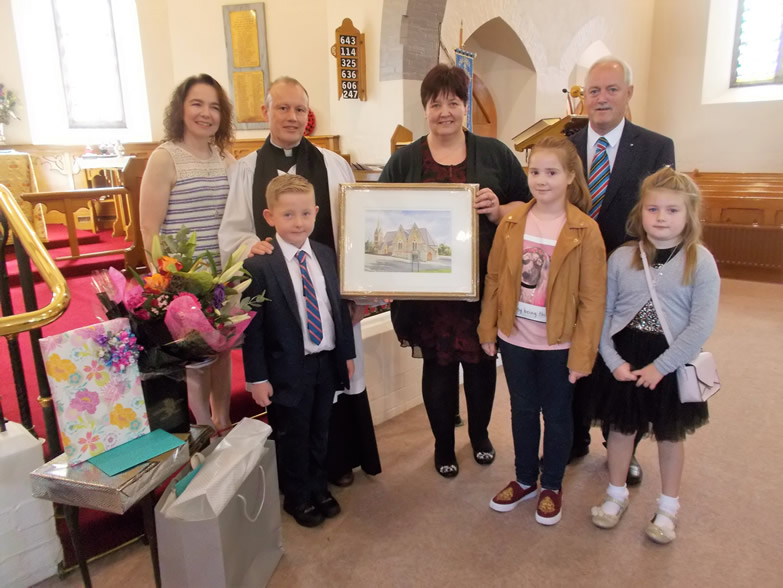 A presentation of gifts at Christ Church Bessbrook, with Rev William McCracken, Mrs Rachel McCracken,
Janice Kinnin & Allen Kinnin (Churchwardens)
and Sunday School pupils, Amy & Bobby McConnell and Kenzie Cairns.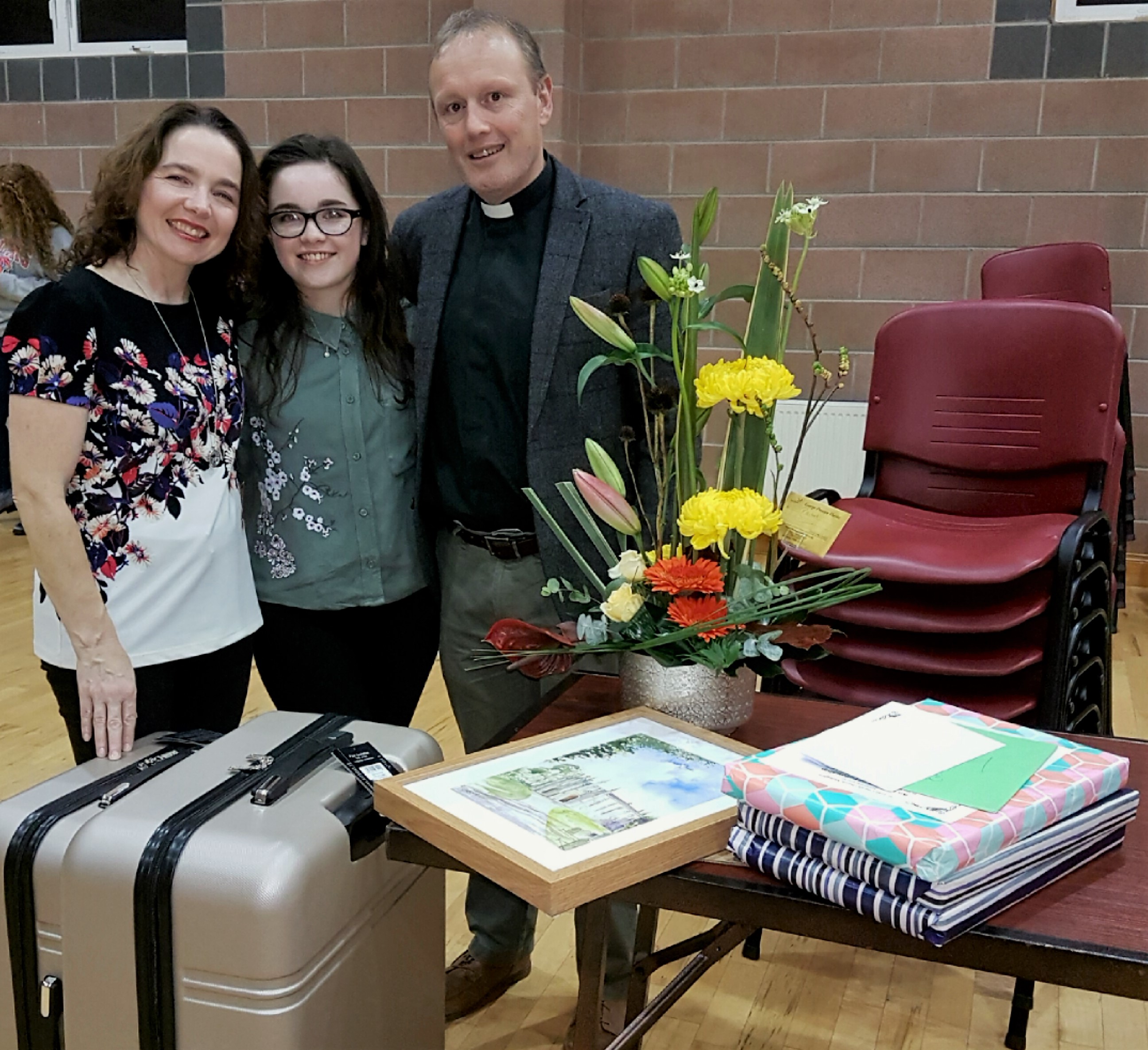 Rev William McCracken and Mrs Rachel McCracken and their daughter Caithlin,
with gifts presented by Mullaglass Parish.

The Co. Armagh, Church of Ireland parishes of Camlough (Bessbrook) and Mullaglass, bid a fond farewell to
the Rev William McCracken on Sunday 17th September, after 10 years as Curate of the parochial group.
On his last Sunday, Rev McCracken concluded his sermons on the theme of a 'Journey of Faith', emphasising
that our lives and faith lead us on a 'shared' journey, with the Lord Jesus always at our side.
In his final service at Christ Church, Bessbrook, the hymns sung included some of Rev McCracken's favourite and a favourite psalm, Psalm 121, was read.
On conclusion of the service, People's Churchwarden Mrs Janice Kinnin, led the presentation of gifts and a warm tribute to William and his wife Rachel. 
Janice presented a gift voucher to Rev McCracken on behalf of the parishioners, Mr Allen Kinnin presented a water-colour painting of Christ Church, by the well-renowned Co. Armagh artist Myles Gaythwaite, on behalf of the Select Vestry and Sunday School children Kenzie Cairns, Amy & Bobby McConnell presented gifts on behalf of the Sunday School.  Janice further presented a bouquet of flowers to Mrs Rachel McCracken.
After the service, many parishioners attended a picnic lunch in the adjoining Parish Hall.
On Friday 8th September, St. Luke's Mullaglass, held an evening of music and poetry to acknowledge the ministry of Rev William McCracken. 
Again, a large turnout enjoyed the entertainment and supper in the Parish Hall before the presentation of gifts.  Mrs Sharon Conn (Secretary), presented a gift voucher, Mr Don Revels (People's Churchwarden) a water-colour painting of Mullaglass Parish Church and Sunday School children presented a gift of suitcases.
Mrs Michelle Irwin (Treasurer) presented a gift of flowers to Mrs Rachel McCracken.
Rev William leaves the Parochial Group with the blessings and good wishes of all parishioners for his future that lies ahead.