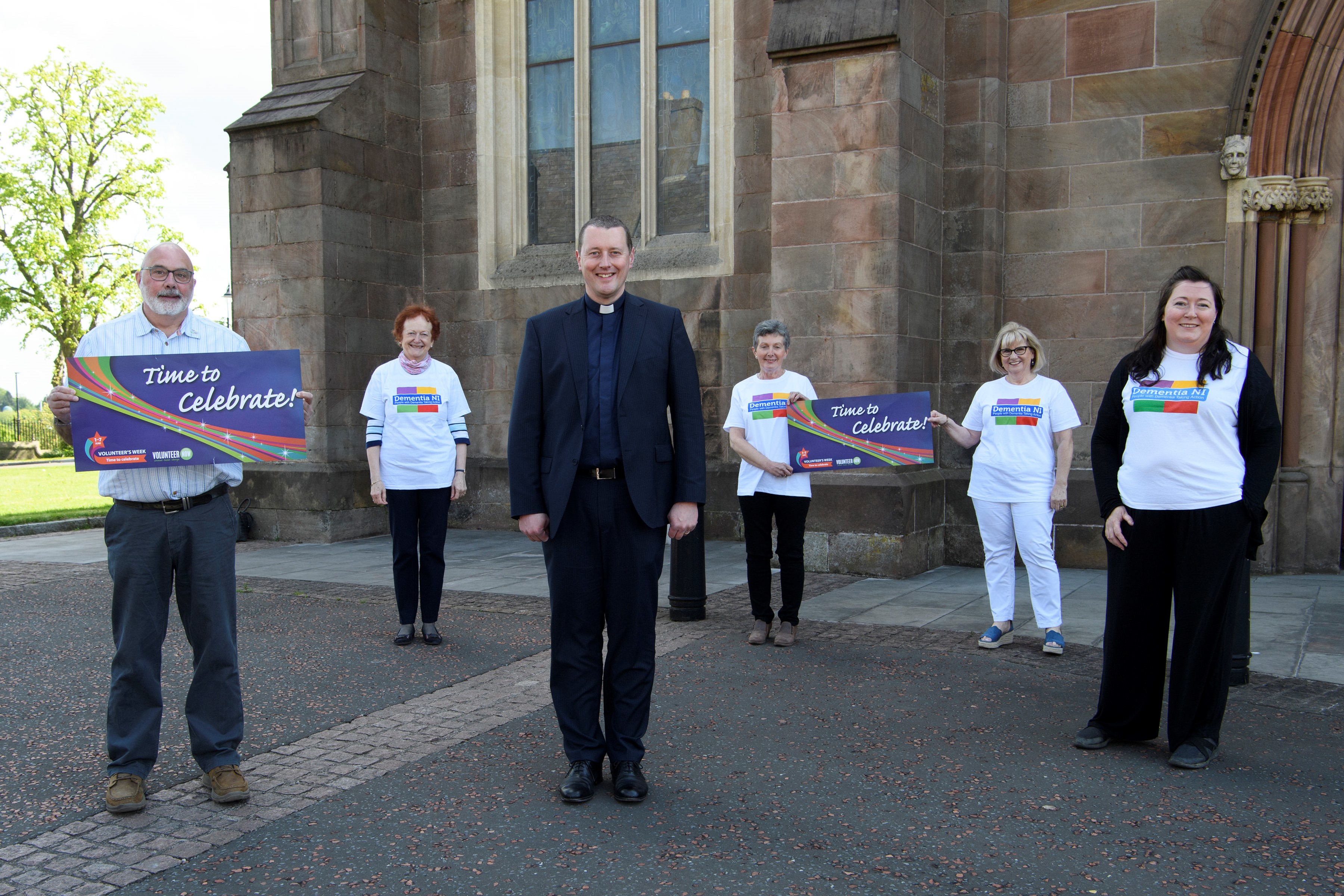 Dementia NI is Celebrating Volunteers Week with Our Support Volunteers

Local dementia charity, Dementia NI, is celebrating National Volunteers' Week from 1st -7th June 2021. The Charity, which has groups established across Northern Ireland, has recently recruited volunteers to support the running of newly established Empower and Support groups in the Armagh, Banbridge and Newry areas, to support local people living with dementia.

Davie McElhinney, a Member of Dementia NI, who lives with a diagnosis of dementia says "Dementia NI volunteers are such an important part of the Charity. During Volunteers Week we would like to thank them for all the hard work and support they give to the Members and Staff. We could not function as well without them".

Dementia NI was founded in 2015, by five people who had been diagnosed with dementia. The Charity is a member-led organization, specifically for people living with a dementia diagnosis, who want to raise awareness of the condition and challenge the stigma around a dementia diagnosis, as well as ensure that the voice of people living with Dementia is heard.
Since its inception, Dementia NI has continued to grow, establishing Empower and Support groups throughout Northern Ireland. The Armagh Empower and Support group is the most recently established group. Its launch would not have been possible without the hard work of Dementia NI volunteers and the generosity of St Patrick's Cathedral, Armagh, in supplying the premises.

Speaking before the photo call, the Very Revd Shane Forster, Dean of Armagh, said, "One of the many things we have learned during the pandemic is the importance of community and human contact. We have all, at one level or another, missed face to face conversations and the opportunity of meeting with friends. At the Cathedral, we are delighted to be able to offer a safe space and a warm welcome in our Music Hall to the members of The Armagh Empower and Support Group. The volunteers have been doing some wonderful work online in support of those living with dementia in our local community and we very much look forward to real time meetings in the future. Dementia NI volunteers provide an invaluable support network, friendship, and a listening ear to those who are facing numerous challenges at different stages in their journey with dementia."

At present, much of Dementia NI activities are carried out virtually and, in this regard, the Charity's volunteers remain invaluable at supporting the smooth running of the organization and remain a vital link to those living with dementia to remain connected. Dementia NI continues to run its Empower and Support Groups on a weekly basis (currently online), alongside other activities and research projects.

Membership with Dementia NI is available to anyone living with a mild to moderate dementia diagnosis. If you or someone you know has recently received a diagnosis of dementia and are interested in finding out more about how Dementia NI can help support you on your journey, please go to www.dementiani.org or phone 028 9693 1555 for more information.