A tribute to Archdeacon Raymond Hoey
who passed away on 23rd November 2019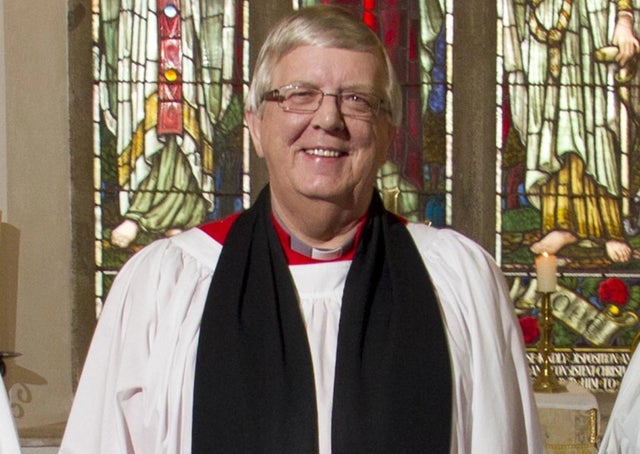 A sermon preached at his funeral Eucharist by the Very Revd Gregory Dunstan, Dean of Armagh

From the Revelation to John, Ch. 21, v. 3, from the first Reading that Raymond chose for this service today, "Behold, the tabernacle of God is with mankind, and he shall dwell with them and they shall be in his people; and God himself shall be with them, and be their God". So John speaks of our hope, and of our condition, in words of peerless beauty. Yes, these words are about the End, when God is among his people gathered to himself; when God is all in all. But these are also words about today. In Jesus 'the Word was made flesh and dwelt among us'. Crucified and risen, Jesus dwells among us still. He is Emmanuel – God with us – dwelling among us, as we are his people, until the End of time.

So Raymond, priest, pastor, preacher, Archdeacon, has reminded us this afternoon of the Church as the People of God. This afternoon we celebrate the Eucharist, in which God's dwelling among his people is ever-renewed. So Raymond has also recalled us to our hope. Jesus' resurrection has begun something utterly transformative, not only of us but of the whole Creation. Yet in this hope we are all included, individually and every one. This text surely reflects Raymond's faith, both in his public ministry and in his personal life.

Raymond was a Fermanagh boy, one of two – brother and sister – born in Ballinamallard. Educated at Portora, he retained both a life-long affection for the school and something of the prefect's authority which it gave him. With a good mind, he went on to Trinity, both for his degree and Divinity Testimonium. It was also – so happily – at Trinity that he met Joyce. So began the partnership that would lead to marriage, to the birth of Shauna and Jonathan, and to the Rectory family in Bessbrook.

Raymond was ordained for the curacy of St Mark's, Portadown in 1972. Canon Tom McGonigle was Rector. Portadown was at the centre of 'the Troubles', then at their height. Indeed, almost all of Raymond's ministry was in the context of 'the Troubles'. Bessbrook, in the parishes of Camlough and Mullaghglass, was reputedly the busiest heliport in Europe. Inevitably, it was on the 'front line' of the conflict in South Armagh. There were tragedies; times of great suffering; a ministry of sustaining parishes and people through it all. Raymond was also chaplain of Daisy Hill Hospital. But as the various army units came and went, Raymond made sure to contact their padres; to invite them to a meal; and to preach. Such contacts could be pastorally invaluable. Raymond was also instrumental in erecting a memorial to the men murdered at Kingsmills in the village. He preached on several memorial occasions – on the last a sermon widely recognized both as speaking to the hearts of those who had suffered so terribly and as doing so without bitterness.

It was while they were at Bessbrook that Joyce died. Her death was a great loss. Deeply bereaved, not the least of Raymond's tributes to her were the beautiful services for her funeral, and cremation at Roselawn, that Raymond ordered himself.

In 1992, Archbishop Eames appointed Raymond as Archdeacon of Armagh. This gave him responsibilities across the Diocese, which he enjoyed. Rather shy in private, Raymond could excel in a public role. His chairing of a Diocesan Synod during an episcopal vacancy was assured, effective, good-humoured and urbane. With the Archdeaconry also came a governorship of Armagh Robinson Library (as it is now) and of Armagh Observatory and Planetarium, on whose management committee he served. Raymond was also involved for many years in the central life of the Church of Ireland, serving on the Representative Church Body, General Synod and Standing Committee.

Raymond was good with words. In the pulpit he was authoritative and clear. His friends may recall that he could put words together for fun – and a little mischief! If he thought someone was being treated unjustly, he could be very direct. This gift of his found further expression in the Church through his service on the Central Communications Board, his chairing of the Church of Ireland Press, and of the Internet Committee when the Church launched its first website in 1997.

If you go to Tullyhappy Lodge, you will find a lovely garden – Florrie's creation, as the garden at the Rectory was Joyce's. But both also reflect Raymond's passion for garden centres – homeward journeys laden with plants. And in front of the house stands Raymond's pride and joy – the big black 'Jag'! He'd arrived!

Raymond and Florrie were married here in the Cathedral on 20th April 2011. A photograph in 'The Ambassador' recalled a very happy day. So the Rectory, and then Tullyhappy Lodge, became family homes again. At their first Christmas, they invited a newly-installed Dean to share their dinner – and the Dean saw in Raymond a very happy grandfather.

Since then, Raymond and Florrie have supported each other through serious illness. In the Cathedral we could see Raymond's health failing, although he was not one to speak of it. Now a difficult, complex and painful condition has run its course. Dr McKernan and the staff at the Bessbrook Surgery, and the District Nurses, were immensely helpful. Dr Hearty and the staff at Daisy Hill Renal Unit did all they could. Dr Morris, the Revd Matthew Hagan, and the team at the Southern Area Hospice were wonderfully supportive. We had known, I think, that the end must come – but not as quickly as it did. It leaves you, Florrie, Shaunna, Jonathan, Emily and Erin suddenly bereaved, and a gap in a wider circle of family and friends. Please be assured of our prayers, our sympathy and support, not only today but in the time to come.

So we return to that text with which we began, and to our hope, in God dwelling with his people. God's indwelling us in Jesus, in us and among us, is not ended in death, but is the prelude to our life with him in the Risen One. This indwelling is the central theme of the hymn that Raymond chose for us to sing as we prepare to celebrate and receive the Holy Communion. So, as we come to Jesus this afternoon, and as He renews his Presence in us, let us remember our community with Raymond, and with all whom we have loved, in Him. As we do so, let us pray his Presence with all who mourn Raymond, that they may know his peace, and have his strength for the days to come.