Archbishop encourages 'Safe Church' for victims of domestic abuse
'Shocking and disturbing' was how the Archbishop of Armagh described the issue of domestic abuse at a recent meeting of the Armagh Diocesan Board of Social Responsibility.

The board received a presentation from Inspector David Hutchinson and Sgt Jenni Rea of the PSNI Southern Area Public Protection Unit, and from Eileen Murphy, CEO of Armagh Down Women's Aid.

In Northern Ireland, domestic abuse is any incident of 'threatening, controlling, coercive behaviour, violence or abuse (psychological, physical, verbal, sexual, financial or emotional) inflicted on anyone (irrespective of age, ethnicity, religion, gender, gender identity, sexual orientation or any form of disability) by a current or former intimate partner or family member'. The board learnt that the PSNI recorded 28,392 incidents of domestic abuse and 14,073 crimes in the Southern Trust area in 2015/16. 69% of the victims were female; 31% were male. Eileen Murphy explained that the perpetrators come from all sectors of society, including clergy, and the 'rich and powerful' who have the means to manipulate agencies and control their victims.

The churches were requested to talk more openly about the issue of domestic abuse and provide 'Safe Places'. The Archbishop encouraged the Board to explore the concept of 'Safe Church' for victims, with the possibility of this being taken forward at the next Armagh Diocesan Synod.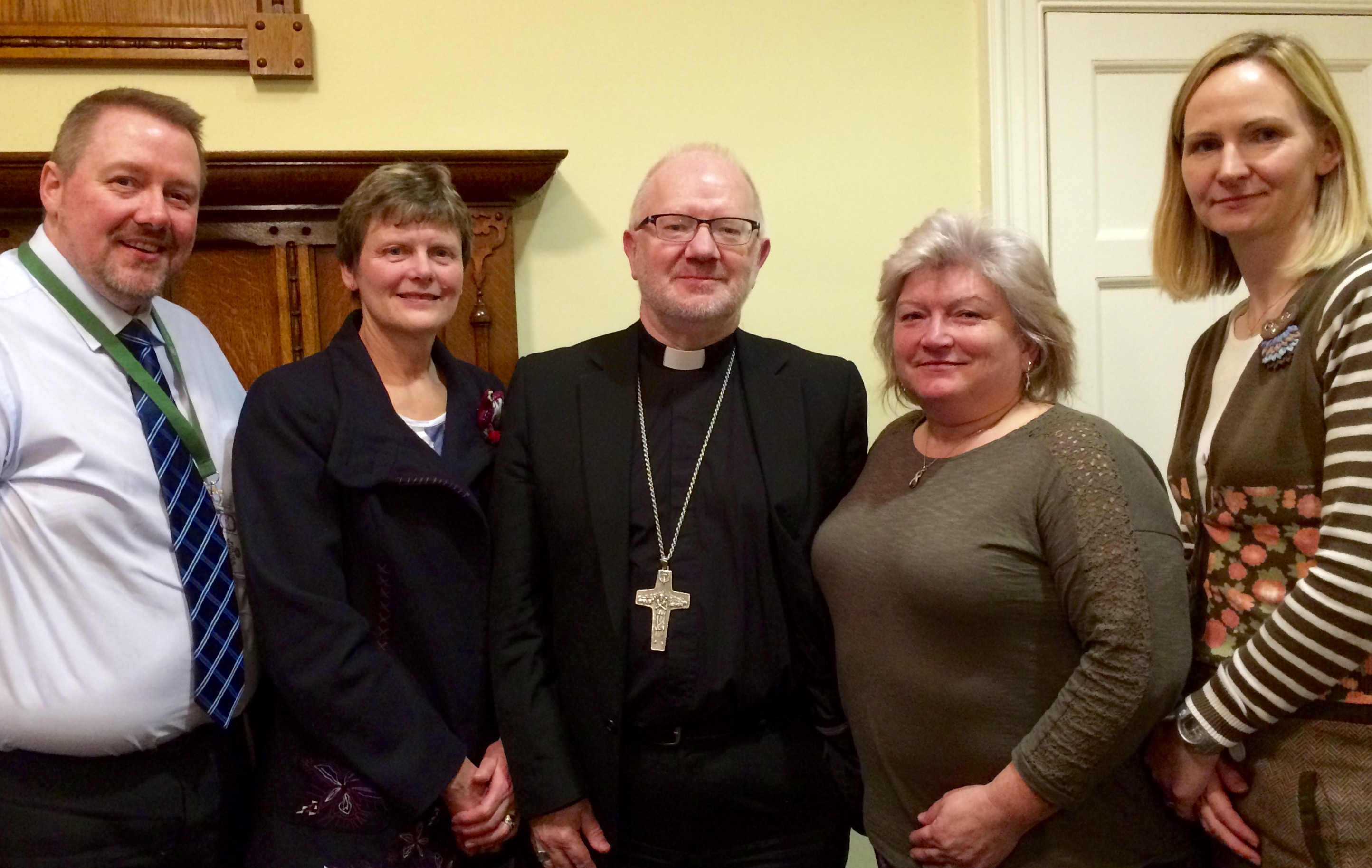 Inspector David Hutchinson PSNI , Sophia Dillon of Mothers' Union,
Archbishop Richard Clarke, Eileen Murphy of Women's Aid & Sergeant Jenni Rea (PSNI)