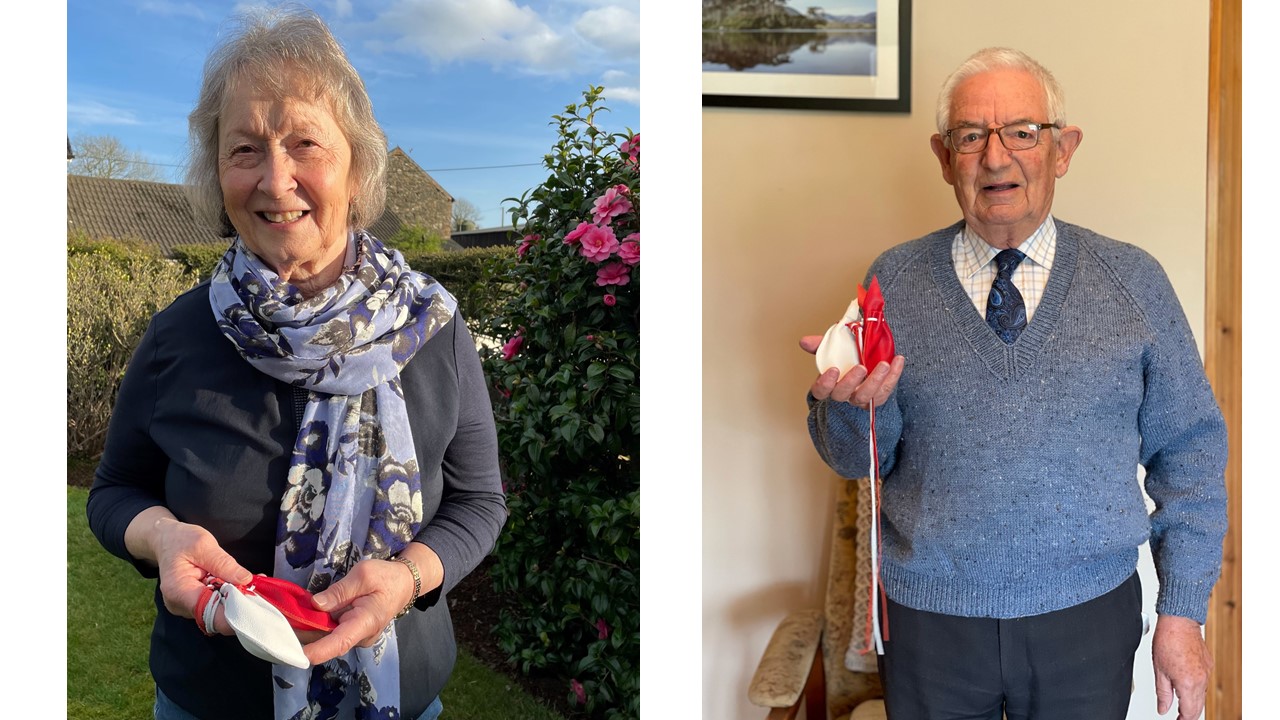 Mrs Elizabeth McClure and Mr Neville Pogue receive Royal Maundy Money

Elizabeth McClure
has been a member of Woods Parish Church for more than 50 years following marriage to her late husband Richard. Throughout that time she has immersed herself in Parish and community life both locally and Diocesan wide.
Parish Involvement: Elizabeth continues to be a member of the Church choir and Mothers' Union. For many years member of the Select Vestry – during which time she held the offices of Churchwarden, Parochial nominator and Hon Treasurer. Also heavily involved locally in the Girl Guiding movement – an interest which continues to this day.
Diocesan Involvement: Former Trustee and President of Armagh Diocesan Mothers' Union, during which time she also sat on the All Ireland Council of MU. Served as a lay member on the Board of St Patrick's Cathedral, Armagh. For many years a lay member of the Armagh Diocesan Synod and Council. From 2003-2020 served as one of the two lay Hon. Secretaries to the Diocesan Synod and Council, bringing her good common sense, wise council, and gentle manner to that role. For many years she was also a lay member of the General Synod of the Church of Ireland.
Education Involvements: For many years she served as a governor on both Woods Primary School and the Rainey Endowed Grammar School. She also served terms as Hon Secretary, vice-chair and chair of the Board of Governors of Rainey Endowed.
Elizabeth's faith is central to her life. She embodies the very best of that utterly devoted lay person commitment to serve God and her community using the gifts she has been given. She is highly regarded and respected by all who know her.
Neville Pogue
alongside his wife Myrtle, has been a dedicated volunteer for Southern Area Hospice Services for more than twenty years. His service during that time has been truly inspiring.
Neville gives so freely of his time and skills to help raise funds for Southern Area Hospice to enable them to continue their work providing specialist palliative care and support to local people who are living with Cancer and other life-limiting illnesses, such as Multiple Sclerosis and Motor Neurone Disease.
Over the years Neville has assisted with many Hospice organised events as well as, together with Myrtle, organising their own fundraising events.
Neville and Myrtle are regular faces at Craft Fayres and Markets throughout the area selling their goods in aid of the Hospice. They host coffee mornings, assist with ticket sales and attend community events and cheque presentation to speak about the work of their local Hospice. Neville and Myrtle are true ambassadors for Southern Area Hospice, both in their own local community and far beyond. Their unwavering dedication and community spirit has helped Southern Area Hospice to continue to provide specialist services to patients and families.