Resources for Lent 2016
Please find below 3 examples of study material from:

1. Church of Ireland Evangelical Fellowshiop (CIEF)
2. Biblical Association for the Church of Ireland
3. Church Pastoral Aid Society (CPAS)
1. CIEF

On Wednesday 27th January 2016, the Church of Ireland Evangelical Fellowship (CIEF)
launched this year's Lent booklet entitled 'Beyond Belief'.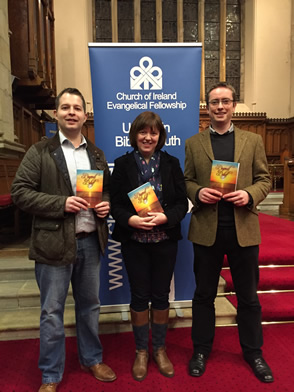 This booklet has been written by the Ven. David Huss (Rector of Donegal and Archdeacon of Raphoe) and draws inspiration from the Nicene Creed. During each day in Lent, readers will begin with a phrase from the Creed, a relevant Bible verse, and then a short Reflection. The reading then ends with a suggestion for a Practical Response and the title of an appropriate Hymn.
Pictures left to right are: Revd Peter Jones, Revd Joanne Megarrell & Ven. David Huss.
Booklets retail at £4 and orders may be placed now for single or multiple copies, with discount for orders for 10 copies or more. Rectors are encouraged to order copies for their parishioners as soon as possible, so that deliveries can be made in time for Ash Wednesday (February 10th).
For further details, or to place an order, please email Mr Denis Fullerton (Publications Officer) :
d.fullerton@ntlworld.com
or by post :
CIEF Publications
31 Beechdene Gardens
Lisburn
BT28 3JH

2. Biblical Association for the Church of Ireland

3. CPAS