Hospice Sunday Appeal raises over £132,000 to date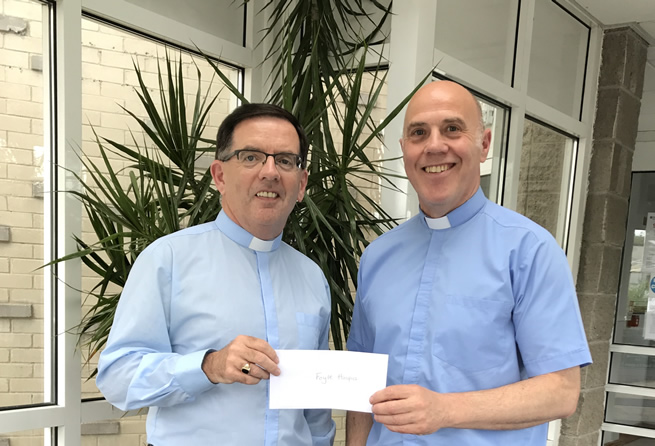 Rev. Matthew Hagan (Annual Hospice Sunday Co-Ordinator)
and Rev. David McBeth (Chaplain: Foyle Hospice, Londonderry)
pictured following the Annual Hospice Sunday Appeal held recently in the Diocese of Derry and Raphoe.

Following their recent first Annual Hospice Sunday Appeal The Diocese of Derry and Raphoe have raised £22,000.
The Diocese of Derry raised £15,500 including Gift Aid and the Diocese of Raphoe raised £6,500.

The Annual Hospice Sunday Appeal is co-ordinated each year by the Reverend Matthew Hagan, rector of Tynan, Aghavilly and Middletown Group of Parishes Co. Armagh who set up the initiative in 2014. Rev. Hagan at the invitation of the Bishop of Derry and Raphoe addressed the members of the Diocese of Derry and Raphoe Diocesan Synod. The Rev. David McBeth, Chaplain at Foyle Hospice, Londonderry and the Rev. Heather Houlton, Chaplain at Donegal Hospice, Letterkenny organised the Hospice Sunday Appeal in their Diocese which was held earlier this year.
The Church of Ireland Diocese of Armagh at its Diocesan Synod in November 2014 agreed that an Annual Hospice Sunday be established and be observed by all Church of Ireland Parishes throughout the Diocese of Armagh.


The Annual Hospice Sunday Appeal began in 2014. The Diocese of Down and Dromore gave generously to the Appeal in 2017 and in 2018 raised £7,600.
The Diocese of Armagh raised £17,500 including Gift Aid. The Diocese of Clogher who have recently introduced the Annual Hospice Sunday Appeal in their Diocese and have contributed £1,400 to date.
The total amount of money raised to date since the Annual Hospice Sunday Appeal began 5 years ago is £132,364. The money was distributed to the following Hospices: The Southern Area Hospice, Newry; The Northern Ireland Hospice, Belfast (which includes the Northern Ireland Children's Hospice), The Foyle Hospice, Londonderry and Donegal Hospice. Therefore depending on where the parish or parishes are within their particular Diocese the money raised by each parish throughout each Diocese has been given to their local Hospice.

Rev. Hagan commented: ' All hospices throughout Northern Ireland depend greatly on the support of the public when it comes to raising much needed funding for their hospice on an annual basis. I am extremely pleased at the magnificent amount of money that has been raised for hospice care in Northern Ireland and in Co. Donegal through the generosity of the parishioners in their Diocese and I encourage other Dioceses in the Church of Ireland to set up a similar initiative to support the wonderful hospice care afforded to those people in our communities who need this high level of care. I can assure the many parishioners in the various Dioceses that their generosity will undoubtedly benefit the excellent level of patient care in their local Hospice. My sincere thanks to everyone who has contributed to the Annual Hospice Sunday appeal.'