Armagh Diocesan Synod
18th October 2016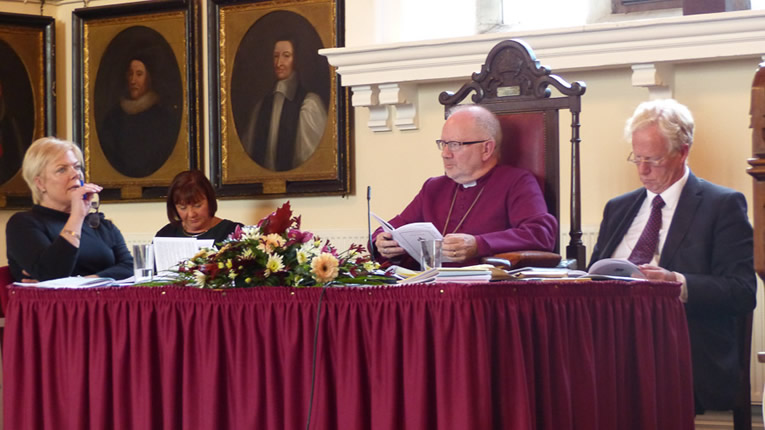 Archbishop Richard speaks on "Applying the Five Marks of Mission" at the Armagh Diocesan Synod 2016.


Archbishop Richard in his Presidential address reminded those present of the "Five Marks of Mission" as identified by the Anglican Communion:
1. To proclaim the Good News of the Kingdom;
2. To teach, baptise and nurture new believers;
3. To respond to human need by loving service;
4. To transform unjust structures of society, to challenge violence of every kind and pursue peace and reconciliation;
5. To strive to safeguard the integrity of creation, and sustain and renew the life of the earth.

Dr Clarke said: 'Every part of the worldwide Church has to work through them, work out the implications for their own setting, and then put them into practice. Proclaiming the Good News of the Kingdom does not mean handing people a package, it means encouraging them to join with us on a journey. We are asking people to become, not "people like us", but to become what we all strive to be, children of the Kingdom of God.'

Archbishop Richard also emphasised that caring about and responding to the needs of others 'are not optional extras' and that we must 'do all in our power to speak and act against the injustice that causes their pain and need'. 'Injustice may be the violence that our countries are fuelling through the encouragement of unjust regimes and the sale of weapons, it may be our purchase of cheap goods that have been manufactured by something akin to slave labour, or it may be in the selfishness that does not care if our countries will not accept those who have fled for their lives from terror. It may be the 1000 unaccompanied children in a refugee camp in Calais.'

The Archbishop set down a challenge to the Armagh Diocese, that over the next year, parishes might do their own "internal audit" on which marks of mission they truly reflect and which they need to start taking on more. Then, as a parish, ask how they might be more effective in fulfilling their calling, their mission.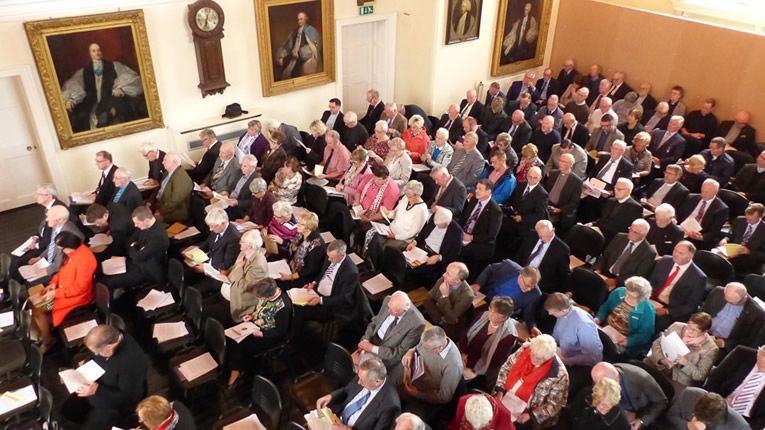 Archbishop Richard took time to express his gratitude and thanks to the multitude of people who minister alongside him. To the clergy and the laity who fulfil ministries of so many kinds. He paid tribute to Diocesan and Parish Readers and acknowledged the significance to the Diocese of the Commissioning of 13 Parish Readers and 1 Diocesan Reader in St Patrick's Cathedral on 9th October 2016. Special thanks was paid to the staff of Church House for the selfless way they undertake all the duties placed upon them.

Special items on the Synod Agenda this year were:
(1) the Report of the Diocesan Commission on Ministry which dealt with the re-organisations of some Parish Groupings and
(2) The Revision of Diocesan Rules and Regulations.
Both items were adopted and are to be submitted to the RCB for approval.

During the afternoon session the various Diocesan Boards presented their reports. In proposing the Report of the Board of Social Responsibility, Revd Andrew Rawding reminded everyone of the great need to be aware of the signs and minister to those who may contemplate suicide.

Synod welcomed Mr David Ritchie in this first year as Chief Officer and Secretary General of the RCB. David spoke warmly of the objectives he and the RCB have to help and support Parishes and "free them up" so that they could focus more on Mission and Outreach.

Synod also heard from Revd Elizabeth Cairns and Revd Rosie Diffin on the topic of Children's Ministry. Their joint presentation was both inspiring and challenging. Statistics tell us that more than 50,000 young people are leaving the Christian faith each year declaring they have no religion. Those present then looked at why Young People disconnect from churches and suggestions for what could be done to encourage "intergenerational congregations" and "sticky faith."

For a full photo gallery click here