Armagh Diocesan
Mission Weekend
16th - 18th November 2018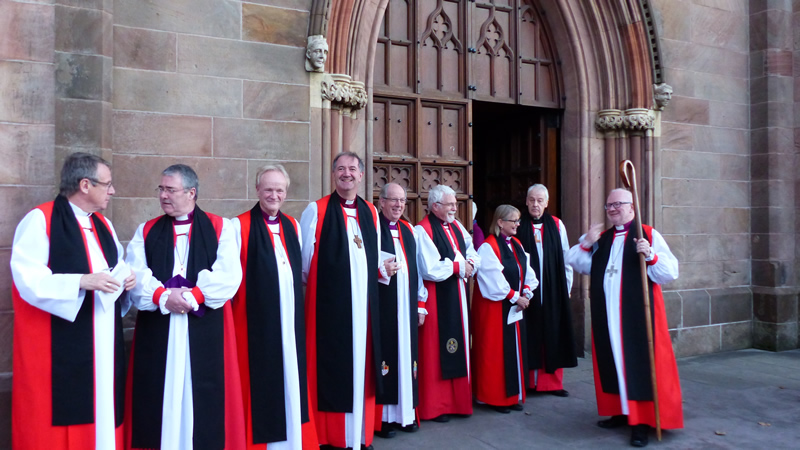 The 9 Church of Ireland Bishops and Archbishops who took part in the Armagh Diocesan mission weekend.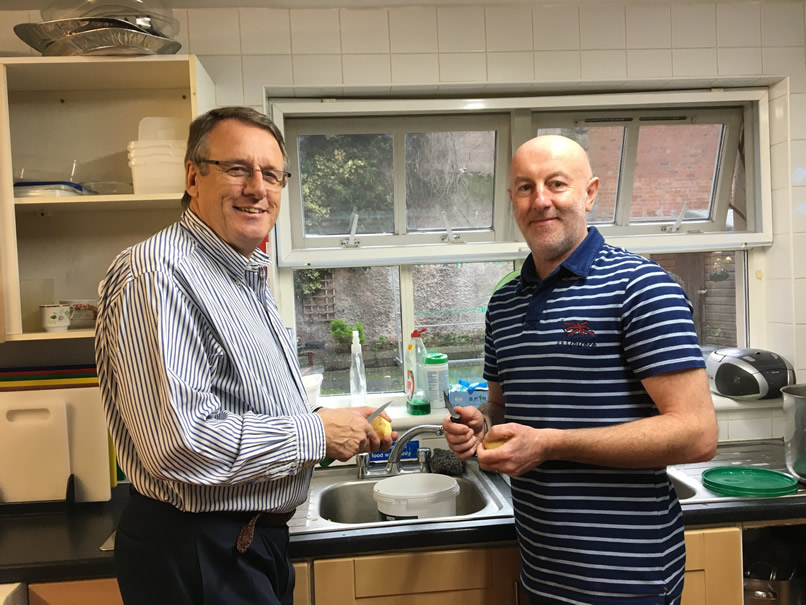 The Bishop of Limerick & Killaloe, Kenneth Kearon with Revd Pete Smith from St Mark's Armagh,
"peeling spuds" at the Simon Community hostel in Armagh

Friday 16th to Sunday 18th November was a momentous weekend for the Diocese of Armagh as eight of the Church of Ireland bishops joined with Archbishop Richard to lead special mission and ministry activities and events within the Diocese.
Our parishes were grouped into 'clusters' with one bishop being assigned to each cluster and being involved in the special events that clergy and laity within that cluster had planned and put together for the course of the weekend. From Praise and Worship Services, to Big Breakfasts, Table Quizzes, Concerts. And from community outreach activities such as volunteering in a local Simon Community hostel for the homeless to inter parish visits to local visitor attractions.

The weekend culminated with a Diocesan service in St Patrick's Cathedral, Armagh at which Archbishop Richard Clarke challenged and encouraged us with the theme 'translating the gospel into the languages of today' so that it can be understood outside our church and parish context. Using the words of Psalm 137 – 'how can we sing the Lord's song in a strange land' – he asked the question how can we connect with a world that neither recognises nor understands our language? The Archbishop reminded us of the epigraph to E.M. Forster's novel Howards End was "only connect" and suggested that this could be our strapline for the life of the church.

So what could be the connecting points to the world outside the church.
Archbishop Richard suggested 3 languages:

1. Dignity and integrity. In a society that knows abuse, disrespect and dishonesty. Everyone is made in the likeness and image of God and deserves that dignity and integrity.

2. Vulnerability and humility. To bring not just our strength but also our compassion, our weakness, our frailty and our repentance. We are loved despite ourselves.

3. The language of Gift. In a culture where everything is treated as a commodity. Life is something that is given to us as a gift and something that just doesn't happen. What we know as the Grace of God, may be understood by us but is this fully understand by those outside our churches.

All of these are deeply biblical themes and it could be these that bring others with us as we live out that life, to a deeper and greater comprehension of the love and grace of God in Christ.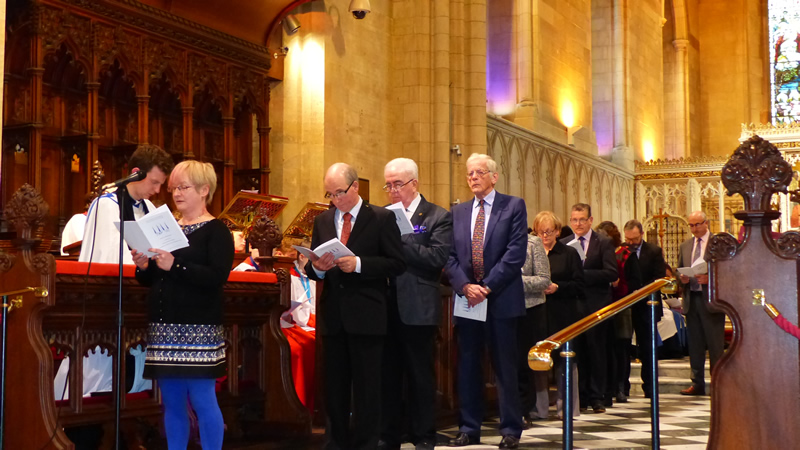 A representative from each of the parish clusters leading the prayers at the Cathedral service.
Bishop Michael Burrows entertains Ethne Harkness and Tracy Taylor on the harmonium in St Patrick's Ballyclog.