Who is telling the next generation ?
A response:
David Brown, Youth & Children's Development Officer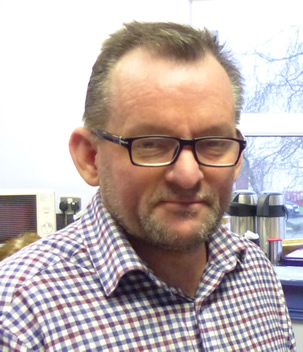 David Brown
It is easy to fall into the trap of assuming that young people are no longer interested in Christian faith as articulated (indeed critiqued) in a recent Gazette editorial comment (Church of Ireland Gazette 18th August 2017).

Truth is, whilst as highlighted in the Gazette editorial there are significant ministries engaged with young people across the island of Ireland, many young people are not engaged in Church, as pointed out by the recent Barna/Christ in Youth Report , "Finding faith in Ireland, 2017". (Based on a survey of young people, youth workers and denominations across the Republic of Ireland).

But, can we honestly say that when the message of Christ is authentically modelled to young people, children and families that they continue to remain un-interested and un-committed to the Christian Gospel?

This short response examines how Parish based youth and children's ministries do "tell" the next generation through those that experience the "coal face" of such work....our volunteers. A number of headings that summarise some thinking on the work and ministry of youth and children's volunteer leaders are offered...

Youth and Children's leaders and "belonging".

Youth and Children's leaders and "believing".

Youth and Children's leaders and "behaving".

As someone trained in Life and Community Coaching with a belief that individuals and agencies are more resourceful than they ever dared to imagine, this 800 word article might be underpinned by one question.. "How does the Church minister to those who minister so that they (youth and children's leaders) remain in ministry?"

Belonging.
The contribution of volunteers to ministry with children and young people at one level is almost un-quantifiable. This is "Kingdom work" (Matthew 13). From the faithful Sunday School teacher, to the Dad who offers a regular Friday night at Youth Club to the Girls' Friendly Society leaders who lead Bible study (to name but a few specific ministries), volunteers impact hugely on young lives. The question remains though, do these adult volunteers always know and feel that their ministry, their diligence, is understood and acknowledged within their Parish or Diocese?

Believing.
Having just completed a "Tour de Armagh Diocese" in my new role as the Youth and Children's Development Officer and in meeting Clergy and many volunteers across the Diocese it is deeply encouraging to see ministry with young people and children. There are (as might be imagined) areas for development. Adult volunteers as noted above, need to know that they belong to the mission of the Church, they also need support in how they are resourced not just in terms of Friday night activity games but in terms of their own Christian belief and discipleship. Encouraging youth and children's leaders to think theologically about their unique vocation and service and vitally for their own walk with Christ to be deepened and encouraged remains an ever present challenge and opportunity. Continuing to find ways, resources and networks across the Church of Ireland (and beyond) that builds the faith and personal Christian spirituality of youth and children volunteers is central to a new generation knowing Christ for themselves.

Behaving.
How do we tell the next generation of Christ's love and call on their lives? My final observation is based on the Church of Ireland continuing to offer and initiate ways in which volunteers behave. Behaviour that means Sunday Schools are run well, resourced and enjoyable for all. Behaviour that allows young people see faith modelled through their Boys' Brigade Officers. Behaviour that focuses on teamwork whereby in any one ministry activity, volunteers are clear as to their role and purpose. Behaviour, (in line with good practice guidelines) that sees young and old alike, safe and supported and engaged. Finding ways to build good practice (behaviours) in youth and children's ministry is not just for those in Ordained or professional Lay Ministry. Training that is relevant and accessible for busy people, giving significantly of themselves in the service of Christ, presents many exciting and challenging questions and opportunities.

Let me at the end of this response throw in one more "B". "Boundaries". In meeting many volunteers who work with children and young people in their Parish, anecdotal evidence would suggest that a large percentage of these volunteers in their day jobs work with children and young people, teachers, youth workers, social workers, health workers, mental health support workers, to name but a few. Yes their work is outside the Parish "boundary" and not necessarily explicitly faith based. Is their work not also, somehow, living the Gospel for the next generation?

Belonging, believing, and behaving. Building the capacity of those who volunteer their ministry to serve children and young people. In so doing expanding the boundary of Christ's Kingdom.