An invitation to become a Cathedral volunteer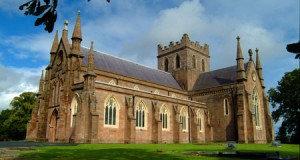 The Board of St Patrick's Cathedral, Armagh, is keen to recruit and involve volunteers, aware that they have played an important role in the life of the Cathedral in the past.

We invite you to consider becoming a Cathedral Volunteer, which would include the following duties:

1. Provide a presence at the West Door and welcome visitors to the Cathedral;
2. Request admission fees;
3. Give brief details about the Cathedral and direct visitors to the information leaflets;
4. Sell items from the Cathedral Shop;
5. Maintain records of admission income and of shop income.

As a Cathedral Volunteer, you would support the Cathedral Steward and the Cathedral Verger, whose duties can frequently take them away from the West Door, thereby preventing them from being able to welcome visitors.

We aim to encourage two volunteers to be on duty at the one time, for their own safety, and to ensure a greater opportunity of welcome if one volunteer is busily involved in dealing with other visitors.

The intention is to have a group of volunteers willing to work on a rota from mid-March to mid-September throughout the busier months. This would cover periods of duty, Mondays to Saturdays, 10.30am – 1.30pm, and 1.30pm – 4.30pm. You may be willing to give a weekly commitment of one of those periods, or of more.

You would be offered training to ensure that you would be comfortable and confident in meeting and welcoming visitors, dealing with money, and giving information about the Cathedral and Armagh.

We know that volunteers play an important role, as they will often be the public face of the Cathedral and will contribute to the visitor experience for local and international visitors alike.

If you would like to join our volunteer team, please complete an application form,
which is available by e-mail: dean@armagh.anglican.org or by telephone: 028 37523142.