Stained Glass Window dedicated
in Ballymore Parish Church, Tandragee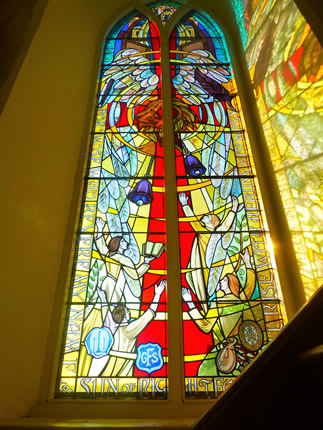 On Sunday evening past (13th September) a large congregation assembled in Ballymore Parish Church in Tandragee to remember with thanksgiving to God, Kelson and Margaret Kilpatrick, a couple whose lives as individuals and then as a couple were intertwined with the life of their beloved Parish Church.  The Service was led by the current Rector of Ballymore, Canon Shane Forster and he was joined by his three immediate predecessors, Revd Sam Black (Rector 1995-2005), Bishop Patrick Rooke (Rector 1988-1994), and Canon Bob Wilkinson (Rector 1973-1987). Family, friends, neighbours and representatives of community and Church organisations reflected on the life, work and witness of this remarkable couple who were often lovingly referred to as
"Mr and Mrs Ballymore."  During the Service a new stained glass window was dedicated "To the Glory of God and in loving memory of Kelson and Margaret."
Kelson who died last year, was a renowned local historian and famous calligrapher.
He was the Church Sexton and served on the Select Vestry and in the Parish Choir, was a Sunday School teacher for some forty years and a member and leader within the Church Lads' Brigade for thirty years.  Margaret Kilpatrick (nee Spence), former Principal of Mullabrack Primary, died in 2008 and had been Enrolling member of the Mothers' Union in Ballymore and a founder member of the Girls' Friendly Society in the Parish.
This well known and much loved couple were devoted to their Church and their Christian faith was lived out in the every day life of the Parish.   The Parish really was
"their family" so it is fitting that this permanent memorial to them now graces the entrance porch of their beloved Ballymore Parish Church. Their example of devotion and service to God and His Church will be remembered for generations to come.
The theme of the window is based on Psalm 84:1-2 "How lovely is your dwelling place O Lord of Hosts".  Inspiration was also drawn from Malachi 4:2 "For those who revere my name the sun of righteousness will rise with healing in its wings".  These Scripture verses appear in script to form the border element of the design and in so doing acknowledge Kelson's great gift of calligraphy. At the heart of the new window is a cross with sun rays spiralling out from it as reminders of Christ's suffering and his love which radiates out as the light of the world.  The lion's head in the design is symbolic of Saint Mark after whom the church is named.  In the bottom section of the window people of God are shown at worship and singing his praises.  Personal references to Kelson and Margaret in the window include a pen and quill, Maundy money and the crests of the Church Lads' Brigade, Girls' Friendly Society and Mothers' Union.  Two bells acknowledge the fact that Kelson and Margaret both rang the bells in Ballymore.  The doors in the top section of the window, pictured as the doors of Ballymore, represent the gates of heaven opened to welcome the faithful and beyond them the Lamb of God reminds us of Christ's triumph over death.
The window was designed by David Esler of Leadlines Stained Glass Studio, Donegore.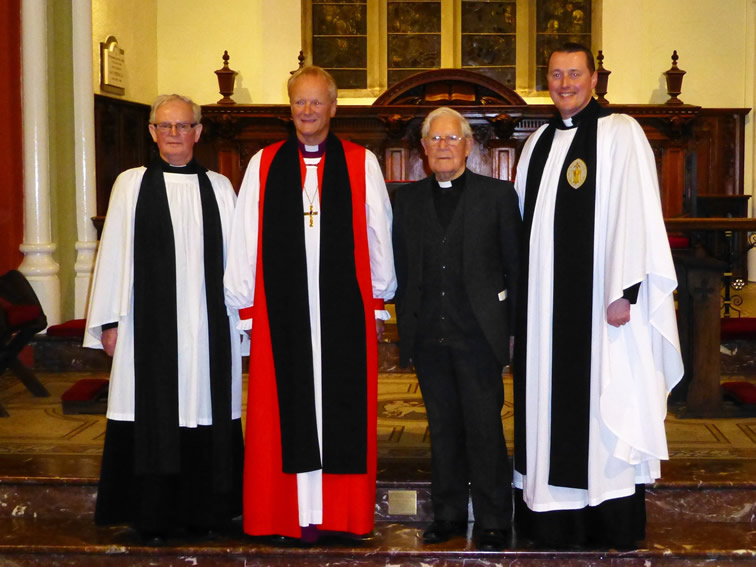 Revd Sam Black (Rector 1995-2005), Bishop Patrick Rooke (Rector 1988-1994),
Canon Bob Wilkinson (Rector 1973-1987) & current Rector Canon Shane Forster