Sunday 21st January 2018 @ 4.15 pm
St Patrick's Cathedral, Armagh
Organ Recital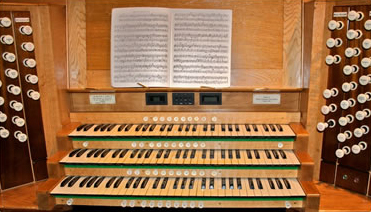 The first organ recital of 2018 will be given by Mr Orly Watson on Sunday 21 January at 4.15pm in St Patrick's Church of Ireland Cathedral, Armagh.

Orly is no stranger to the Cathedral's organ recital series, having participated in several of them over the past five years. He was appointed to the position of Organist of Dromore Cathedral in 2016, and still finds time to give solo piano and organ recitals around England and Northern Ireland.

Outlining his programme, Orly said, "I will play two large-scale works and a couple of miniatures. Rheinberger's Organ Sonata No. 13, Op. 161 is the main item, and is a very grand and substantial Romantic work, exploring the full range of the orchestral sonoroties of the Cathedral's organ." He continued, "I will also give the premiere performance of my own newly-published Armagh Suite, Op. 1. This is my first published work, and it is dedicated to Baron George Minne, Emeritus Organist of St Patrick's Roman Catholic Cathedral, Armagh. Its three movements all owe something to Armagh and the surrounding countryside, and it was composed with the cathedral organ in mind. It has recently gone on sale, but has not yet been played anywhere."

Orly's programme will also include short works by Bach and Vierne.

The Very Revd Gregory Dunstan, Dean of Armagh, said, "We are delighted with Orly's continuing association with the Cathedrals of Armagh, which began when singing as a boy in our choir under the late Theo Saunders. The publication of his Armagh Suite is a great achievement, and we are honoured that he should be giving its first performance in this Cathedral. Its dedication to Baron George Minne is most appropriate. The Baron has been a faithful friend both of this Cathedral, and of the programme of organ recitals."

Admission to the recital is free with a retiring collection most welcome towards the further endowment of the Cathedral choir through the Archbishop's Choir Fund.
For further information, please contact: St Patrick's Church of Ireland Cathedral: Tel. 028 37523142