Sunday 20th October 2019 @ 3.15 pm
St Patrick's Cathedral, Armagh
King's College School Wimbledon Chamber Choir
Choral Evensong & Recital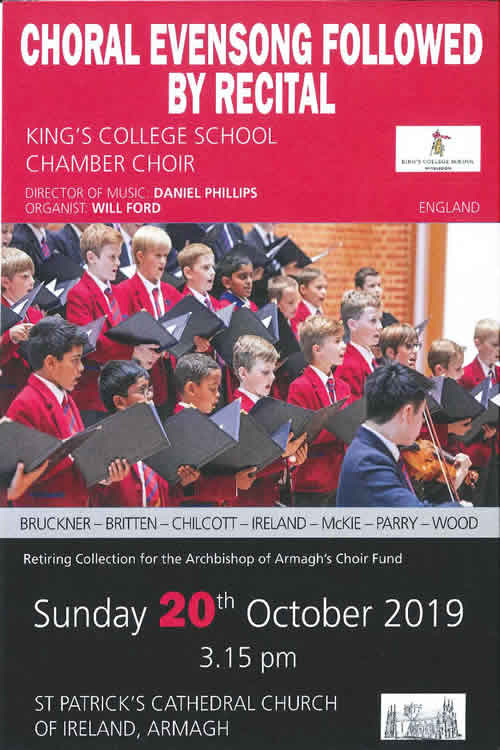 We welcome the King's College School Wimbledon Chamber Choir, directed by Daniel Phillips and with Will Ford on organ. Come and enjoy the choral sound of 45 boys singing Choral Evensong followed by a recital of sacred choral music.

King's College School was founded in 1829 as the junior department of King's College and shared the College building in the Strand until 1897 when the school moved to its present site on Wimbledon Common. In 1912 King's College Junior School was opened and today the two schools educate some 1400 pupils. Music was well established at King's in the 1920s and has flourished
in recent years. The school boasts a particularly strong choral tradition.

The trebles of the Chamber Choir are all pupils at King's College Junior School; the altos, tenors and basses being drawn from the senior school. Currently, there are about 45 boys in the choir.
The Chamber Choir has won a reputation for
itself in London and has performed on tour both in the UK and abroad, in recent years in Austria, France, Italy and Spain. These have included singing in the Duomo in Florence, St Mark's in Venice,
Notre Dame in Paris and St Stephen's Cathedral in Vienna.

The choir regularly sings Evensong in the Cathedrals of St Paul's, Winchester, Chichester, Salisbury, Guildford and Southwark, St George's Chapel Windsor Castle and Hampton Court Palace. The choir has also performed in recent years in Tewkesbury Abbey, St John's, Smith Square, Cadogan Hall and at the Royal College of Music. As well as a number of carol Services each year, the choir also performs a popular Christmas concert in St James's Piccadilly. Together with the King's Choral Society, they have also taken part in joint performances of Handel's Messiah, Duruflé's Requiem, Britten's St Nicolas and Mozart's Requiem in recent years. The choir records regularly: it's most recent CD was released in 2018 to great acclaim and, this autumn, the trebles will be taking part in the highly prestigious Wimbledon International Music Festival.